KITCHEN STORAGE SOLUTIONS
Internal cabinet options
Our cabinets offer high quality construction backed by our 20 year guarantee, alongside a brand new internal grey colour option to complement your style. Both soft white and our new grey colour option are available across all of our ranges.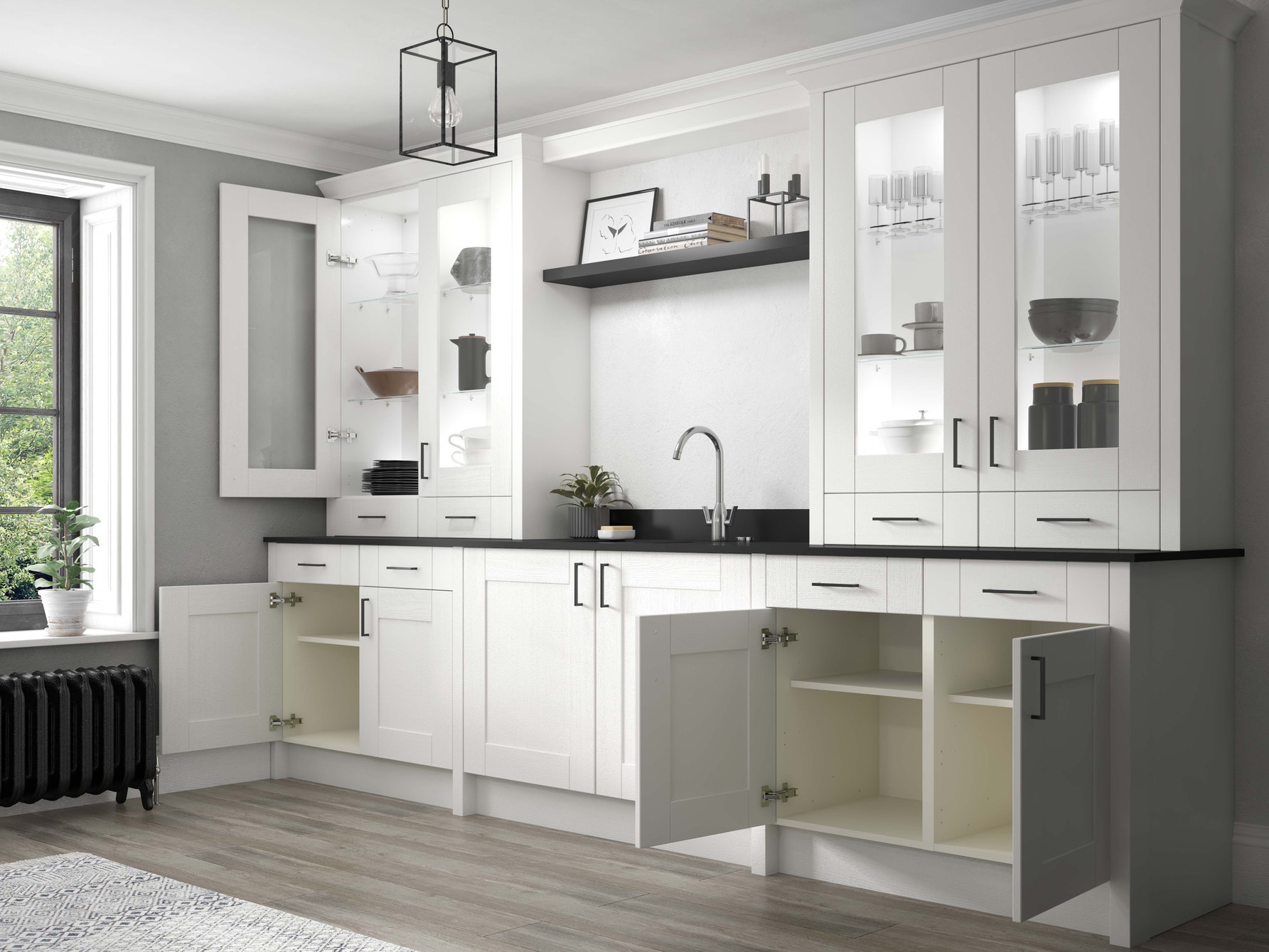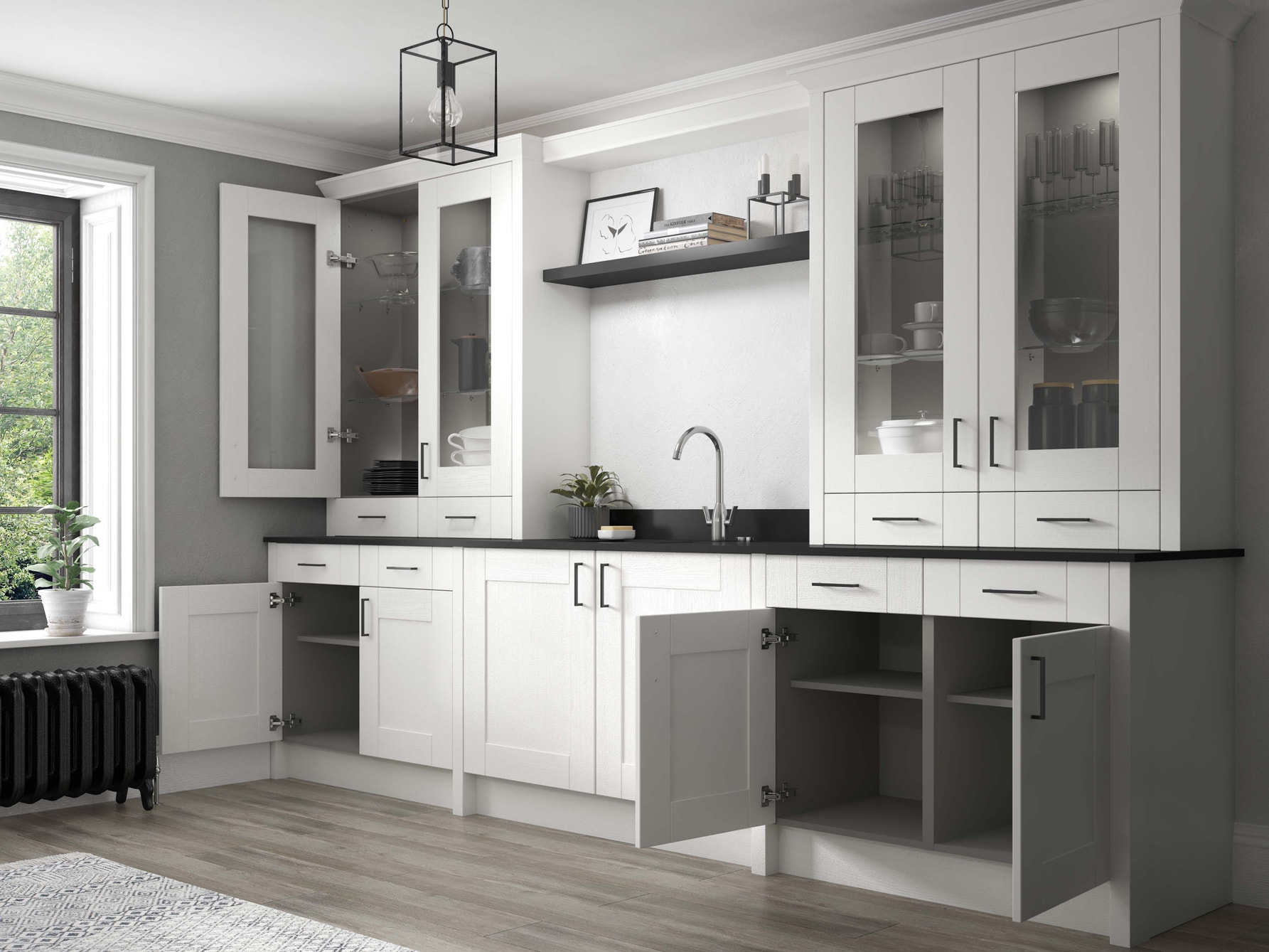 The right storage inside your cupboards will really help you make use of every square inch, even the furthest corners. And being able to hide away bins and other storage in your cupboards means that you can keep floors and worktops clear for a seamless finish.
Larder storage
Tall larder cupboards are great for storing either equipment or groceries. Choose from a standard cupboard or a luxurious walk-in option. And remember that there are further storage options such as the Blum Space Tower which you can add to make storage even easier.
Pull Down storage
Even the tallest person can sometimes have trouble reaching the very top shelves of a wall cupboard. Adding pulldown storage to wall cupboards means that you can still use this space to its fullest extent.
Pull Out units
Not being able to find a specific ingredient stuck at the back of a cupboard can be really frustrating, but that's a thing of the past if you have pullout storage, as it means you can easily see the entire contents right in front of you.
Corner storage
We want you to be able to make use of every single square inch of cupboard space. So we offer a number of different pullout options that enable you to store things in the far reaches of your cupboards but still be able to access them easily.
Bin units
Having a waste bin in the corner can make your kitchen look cluttered. For a more streamlined look, you can hide your bins away by integrating them into a cupboard. Different combinations are available depending on the amount of rubbish and recycling that you produce.
20 year Guarantee on our blum drawer hinges
Drawers are not just for knives and forks and bits of string! With the right storage dividers in place, we can help you make the most of your drawer space.
Under the sink
An under-sink drawer really makes the most of otherwise unused space beneath your sink and is a great place for storing washing up liquid, scrubbing brushes and rubber gloves so that your sink area remains uncluttered.
Pan Drawer
Our large 900mm drawer units are perfect for storing saucepans, and we also offer drawer dividers which will stop things moving about as the drawer opens and closes.
Frame dividers
Make the most of your drawer space by adding different combinations of dividers to help with storage. This one is great for storing spice jars so that you can see what's what at a glance.
Cutlery drawer storage
Standard drawer dividers are available in both wooden or grey finishes, and there are also different options such as an integrated knife block or even a dispenser for clingfilm or tin foil.
Your home. Our guarantee.
Feel confident. Our kitchens are built to last with a 20 year guarantee on all cabinets
Your trust. Our installers.
Enjoy peace of mind. Our local, trusted installers can take care of everything
Your completed project. Our finishing touches.
Personalise your kitchen with our huge range of lighting, flooring, tiles, paints and more.